Managing projects and everyday tasks is probably more difficult than doing the actual work. If you are a working professional, you may be well aware of all the hassle that one has to go through to manage everyday tasks, meet deadlines, and above all, stay productive.
Also, from a project manager's perspective, the challenges they need to face on a daily basis are purely overwhelming. From managing team members to assigning tasks and tracking progress, there's too much on the plate of a project manager.
While project management is challenging, there are several tools that can make projects and teams working on them more manageable. Well, we identify such tools as project management tools or project management software.
A project management tool combines a wide array of features that not only makes the lives of project managers easy but also help team members to boost their productivity. The motive of this blog post is to make you familiar with the best project management tools out there that are trusted by professionals working in different industries.
Once you go through all the listed project management tools, you can choose one that best suits your requirements. However, first, you need to learn the key features that are common across most project management tools out there.
Top Features of a Project Management Tool
Following are the key features that you will find in a leading project management tool:
Project management tools are loaded with several features, and it is essential that users find and interact with those features seamlessly. An intuitive user interface not only is easy to interact with but also ensures that it provides access to all features of the project management tool. Also, a good UI avoids the clutter of different elements and is easy to navigate.
Task management is the key aspect of project management. Whether you are a project manager or a team member, it becomes quite essential to have a clear view of all your tasks. Project management software comes with a task management feature that allows you to create tasks, add descriptions and subtasks, assign them to team members, set deadlines, and so on.
With these features, managers can easily assign tasks and monitor who is working on what task. For team members, the task management features help them to be fully aware of the tasks that they need to complete in a given time frame.
Team Communication and Collaboration
A team that can coordinate effectively, tends to accomplish the project faster. Project management software that is successful and user's favorite comes with features that ensure hassle-free team communication and collaboration.
Adding comments on tasks, attaching files, etc. ensures that team members collaborate effectively even if they are working remotely.
Scheduling and Progress Tracking
For project managers, it is essential to devise a timeline for the project so that it can be delivered to the clients on time. A project manager needs to create milestones that the team needs to achieve in a timely manner.
This is where the scheduling feature comes into play that allows managers to set deadlines for individual tasks. Also, many project management software comes with a progress tracking feature that lets team members update the progress of each task in percentage.
The reporting feature in several project management tools lets you create detailed project reports and resource reports with a few clicks. These reports make it much easier to track the overall project progress and monitor the usage of resources.
10 Best Project Management Tools
Following are the 10 most popular management tools that can help you to organize all your projects and accomplish them efficiently.
https://www.youtube.com/watch?v=qqANMTvVp_E
Asana is among the dominating names when it comes to project management tools. It comes loaded with all the features that allow teams to stay productive and finish projects on time. From task management to team management, Asana is a complete package that comes with exceptional utilities.
It comes with a Kanban board view that allows you to divide the workflow of your projects into stages. Also, you can move tasks from one stage to another by simply dragging and dropping them.
Key Highlights
Due dates and due time helps team members to stay aware of their deadlines.
Gantt charts allow project managers to view the timeline of a project and make better plans to accomplish tasks.
Team members can share images and PDFs, and give feedback by adding comments.
Asana can integrate with several third-party applications, such as Slack and Zoom.
Pricing Plans:
Basic - Free
Premium - $10.99 per user per month (billed annually)
Business - $24.99 per user per month (billed annually)
Enterprise - Custom pricing
https://www.youtube.com/watch?v=xky48zyL9iA
Trello is another popular project management software that is quite popular. Basically, it is a Kanban-board-based project management software that allows you to manage projects using boards, lists, and cards.
With Trello, not only do you manage the tasks effectively but collaborate seamlessly with your team members. It allows you to attach files, images, and documents with cards. Also, you can assign one single task to multiple team members and add comments to share instant feedback or start a conversation.
However, to maintain the simplicity of Trello, it does not offer advanced project management features, including Gantt charts and reporting.
Key Highlights
Minimalistic user interface that is easy to understand and use.
You can create separate boards for easy project management.
Comes with a built-in automation system that allows you to automate various actions.
Allows creation of checklists to break a task into smaller and more manageable subtasks.
Integrates with various popular applications, including Slack, Dropbox, Jira, Salesforce, and Gmail.
Pricing Plans
Free - No Cost
Standard - $5 per user per month (billed annually)
Premium - $10 per user per month (billed annually)
Enterprise - $17.50 per user per month (Price decreases with increase in the number of users)
https://www.youtube.com/watch?v=CjaLQYuSafI
Wrike is a feature-rich project management software that is utterly suitable for medium and large-scale organizations. It has everything that you need to keep track of your projects and manage teams efficiently.
As a business owner or project manager, you can leverage Wrike to manage multiple projects, monitor team performance, and collaborate with clients. Also, you can prioritize tasks and ensure that your team meets their deadlines.
Wrike supports Gantt charts, which means that you can create and visualize the timelines of your projects and create appropriate strategies.
Key Highlights
Customization is at the core of Wrike and you can personalize dashboards, workflows, and more.
Uses AI to automate actions and predict the risks associated with projects.
Offers time tracking feature that comes in handy for tracking billable hours.
Get real-time insights on team performance with advanced analytics.
Supports integration with more than 400 third-party applications.
Pricing Plans
Free - No cost
Professional - $9.80 per user per month
Business - $24.80 per user per month
Enterprise - Custom pricing
https://www.youtube.com/watch?v=su5xAZHF114
The next software making it to our list of the best project management tools is Basecamp. It is one of the oldest project management tools that have been existing in the market since 2004. Over time, Basecamp integrated new and exciting features to meet the changing needs of users.
It is a sophisticated project management software that is suitable for freelancers, software development companies, consultants, media companies, and nonprofit organizations. You can completely rely on Basecamp for creating and assigning tasks, setting due dates, and sharing files.
Moreover, its group chats feature lets team members communicate in real-time without facing any issues.
Key Highlights
The My Stuff menu allows each team member to keep track of all tasks assigned to them along with deadlines.
You can create automatic check-in questions for your team members, such as what are your work targets this week? This will make it easier for you to be aware of the tasks that people on your team are working on.
It can integrate with online calendars, including Google Cal, and iCal to stay updated on all the scheduled events and meetings.
Pricing Plans
Basecamp Personal: Free
Basecamp Business: $99 per month (unlimited users, unlimited projects)
https://www.youtube.com/watch?v=0Q8aA0Lwuyc
ClickUp is a project management software with an extensive range of features. It is a perfect choice for individuals who want to have almost all the features offered by leading project management tools along with some additional features at their disposal.
However, for users who are completely new to project management tools, the feature list of ClickUp can be overwhelming. With a modern UI that is well-organized, ClickUp makes it easy to manage multiple projects simultaneously without getting exhausted.
It allows you to view your projects in different views, such as list view, board view, box view, and me view. It also has an in-built time tracker that allows team members to track time on individual tasks.
Key Highlights
It allows you to create automated workflows and save time on performing repetitive processes.
You can create reminders to make sure you never miss out on accomplishing important tasks on time.
ClickUp can generate powerful project reports quickly.
Its workload view lets you allocate and manage all your resources from one single place.
Pricing Plans
Free - No cost

Unlimited - $5 per user per month (billed annually)

Business - $9 per user per month (billed annually)
Business Plus - $19 per user per month (billed annually)
Enterprise - Custom pricing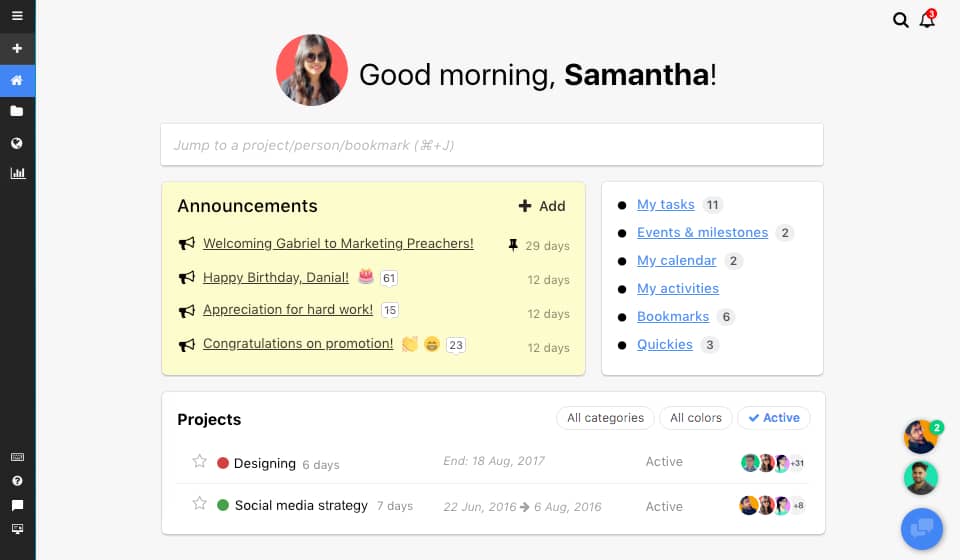 If you want a versatile project management software that has a sorted user interface, ProofHub can be exactly what you need. It brings all the necessary tools that you need to manage projects, organize teams, delegate tasks, and boost productivity under a single roof.
Also, with ProofHub in your arsenal, you do not need to switch between multiple tools to accomplish projects on time. ProofHub comes with a live chat feature that supports one-to-one communications as well as group chats.
Also, Gantt charts and built-in calendar simplify the task of planning work to achieve project objectives with minimal roadblocks.
Key Highlights
Comes with a built-in note-taking tool that allows users to take notes and manage them effectively.
It can produce workload reports and project progress reports with a couple of clicks.
You can use its proofing feature to share images and PDFs with teammates and get instant feedback as comments. Also, its markup tools make it possible to annotate files and add feedback for a particular section.
Pricing Plans
Essential - $45 per month (unlimited users)
Ultimate Control - $89 per month (unlimited users, unlimited projects)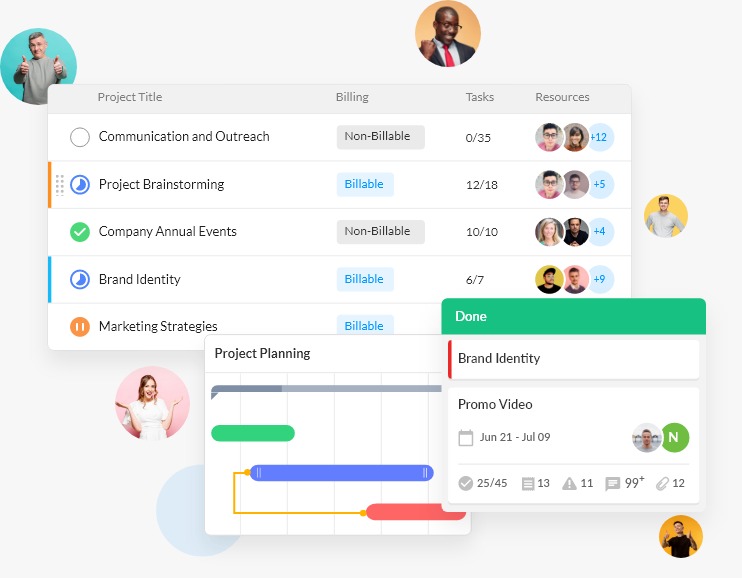 nTask is yet another powerful tool that allows you to manage projects and organize tasks productively. Compared to several other popular project management software, nTask is new to the market.
However, its robust features and reliable performance has made it one of the best project management tools available in the market. From project planning to final delivery, nTask can help you throughout the project lifecycle .
It can help you create tasks, assign tasks, attach documents and add comments to tasks, set task dependencies, initiate team chat, and more.
Key Highlights
Create multiple milestones for a project.
Divide the project execution process into multiple stages with the Kanban board.
Track time with an automatic timer and add manual entries to timesheets.
Supports integration with over 1,000 apps.
Pricing Plans
Basic - Free
Premium - $3 per user per month (billed annually)
Business - $8 per user per month (billed annually)
Enterprise - Custom Pricing
Monday is another elegant project management tool that lets you shape your workflow in your way. You can customize any workflow to fit your needs and boost your team's productivity, efficiency, and alignment.
Moreover, this tool allows you to collaborate with your team. It includes easy-to-use automation and real-time notifications. With a visual and easy-to-use interface, any novice user can get started with Monday without training.
You can choose from more than 200 ready-to-use templates and over 30 drag-and-drop column types to shape your workflow. In addition, this tool synchronizes your groups, items, sub-items, and updates in real-time. It makes sure everything stays within the context of your project or workflow.
Key Highlight
It Comes with a visual dashboard that lets you tailor it your own way.
You can visualize project milestones and dependencies in one place.
It supports embedding any of your Monday boards into your work docs.
You can receive comments and assign tasks to anyone in real-time.
It lets you edit any doc with team members together simultaneously.
You can create visual task lists to keep your ideas organized.
Pricing Plans
Individual - Free
Basic - $8 per user per month
Standard - $10 per user per month
Pro - $16 per user per month
Enterprise - Custom pricing
Teamwork is another feature-rich project management tool that caters to all your project management needs. From creating tasks and projects to collaborating in real-time, Teamwork provides everything under one roof.
It also allows you to customize your workflow the way you want. Moreover, Teamwork seamlessly integrates with other tools, including Google Drive, Dropbox, Slack, and HubSpot.
Along with managing your projects and work, you can manage your whole business with Teamwork. It comes with Teamwork Desk, Chat, Spaces, CRM, and many other tools to manage your business.
Key Highlights
You can visualize your project in three different views: board view, dashboard, and Gnatt chart.
It allows you to track your meetings, deadlines, holidays, etc., in one place using Calendars.
Get real-time updates on project progress from your team members.
It provides you a platform to communicate with team members, clients, and collaborators and keep them in a loop.
Comes with a built-in online time tracker to deliver work on time and understand where time is spent.
You can create tasks and sub-tasks to split your workload and assign various team members.
Pricing
Free Forever - Free
Deliver - $10 per user per month (minimum 3 users billed annually)
Grow - $18 per user per month (minimum 5 users billed annually)
Scale - Custom pricing
Notion is yet another project management tool that enables you to customize your workflow. It is an all-in-one tool that allows you to create documents and spreadsheets, take notes, build a knowledge base, and manage projects.
This tool is developed around pages and databases. On each page, you can add content, like images, text, etc. Also, you can add various types of databases to a Notion page, including lists, calendars, tables, and kanban boards. Once you build a database, now can begin with adding items to it. Meaning that you can add projects, tasks, or whatever you want to a database.
Key Highlights
You get galore of pre-built and free templates to choose from to organize your workflow.
Notion has a drag-and-drop interface, which makes it easy to create a dashboard of your choice.
It allows you and your team members to work collectively and edit pages in real-time.
It provides several options for viewing your databases. Meaning that you can view your database items on a Kanban board or a calendar.
Pricing
Personal - Free
Personal Pro - $4 per user per month (billed annually)
Team - $8 per user per month (billed annually)
Enterprise - Custom pricing
To Sum it Up
Project management is a complicated process as there are many different aspects of a project that you need to monitor effectively. Project management tools make it easy for you to manage projects as well as teams without staying on your toes.
A typical project management software combines all the essential tools required to complete projects in the specified time. In this article, we have listed the best project management tools that can help you and your team to stay productive and manage projects like a pro.
While choosing a project management software, make sure that it meets all your requirements and also your budget. Also, most project management tools come with either a free plan or a free trial, so make sure you test them before subscribing to their paid plans.
People are also reading: