A CPU monitoring tool is a crucial component that keeps a tab on your CPU's health. It collects data from various sensors and checks the temperature of the CPU . Using the computer for long hours can end up heating it and affecting its performance. Besides this, there are many other reasons for heating up the CPU, such as fan speed, overclocking, viruses and trojans, dust, and CPU-intensive software programs.
When the load rises, the CPU's core heats up. Overheating can occur when loads exceed the threshold levels or when the fan breakdowns or fails. In addition, high CPU temperature can damage the motherboard and other devices.
The maximum suggested CPU temperatures are usually specified by the manufacturer. However, the maximum temperature of the CPU is between 80 to 100-degree Celsius. When the CPU is idle, the ideal temperature should be around 45 degrees Celsius.
Monitoring CPU performance can be the difference between network latency and efficiency decline. If you work on your PC for long hours, your life can be made more difficult by lacking a powerful and reliable tool to monitor the CPU. CPU monitoring improves network stability. The network collapses far less frequently, saving you both time and money.
In this article, we will familiarize you with some of the best and most widely used CPU monitoring tools to monitor your CPU performance regularly.
10 Best CPU Monitoring Tools to Monitor Your CPU Performance
Here is a list of the 10 best CPU monitoring tools to optimize the performance of your processor.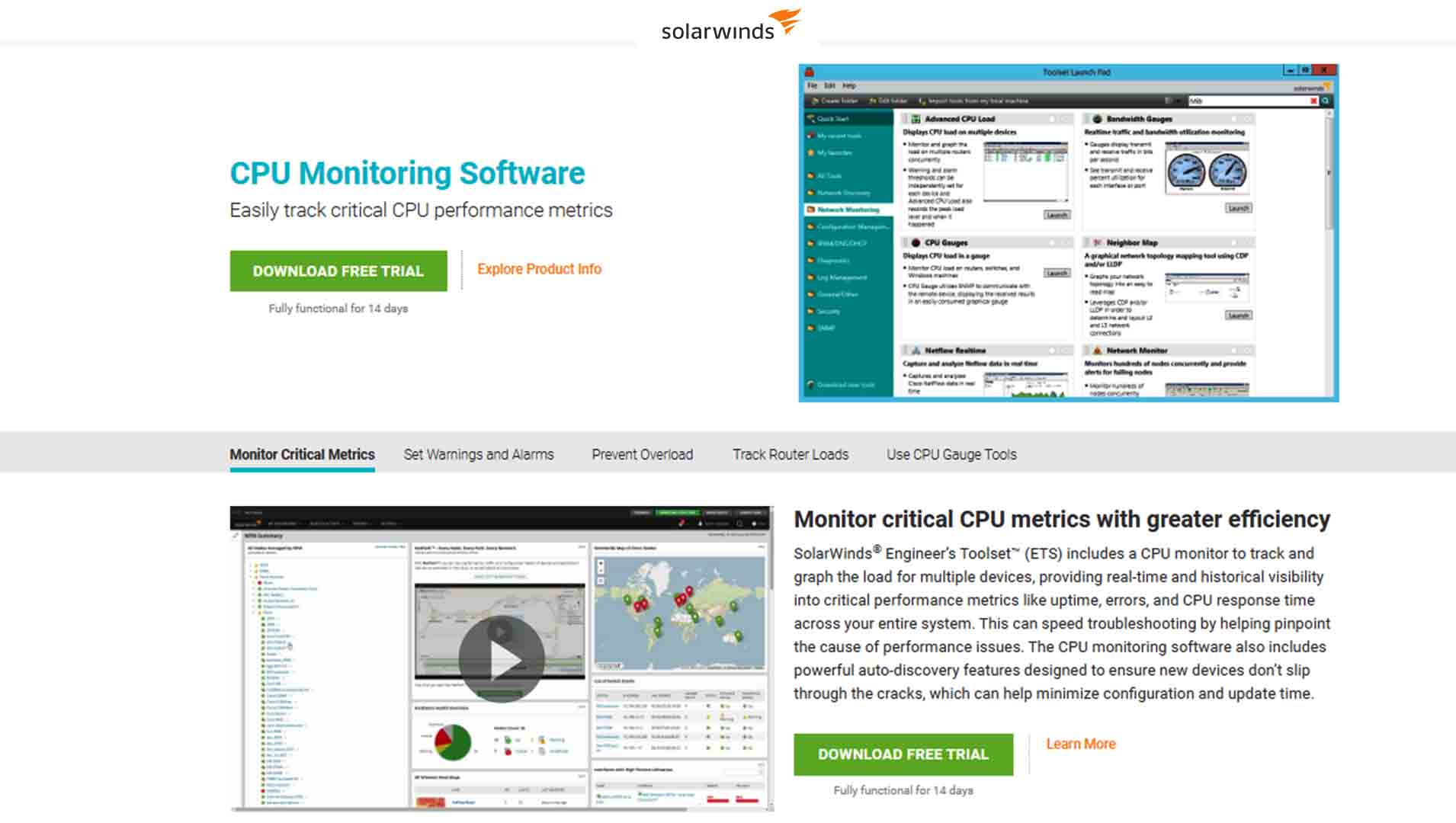 SolarWinds features a CPU monitor that tracks and graphs the load for numerous devices, giving you real-time and comprehensive insights into crucial performance indicators, like uptime, faults, and CPU reaction time across your whole system. This can speed up troubleshooting by pinpointing the source of performance issues.
Moreover, the CPU load monitor lets you set the alarm and warning threshold for every device separately. It displays the yellow load bar when it reaches the threshold point, and the red load bar represents a critical level.
Furthermore, it also contains robust auto-discovery tools to guarantee that new devices do not fall through the gaps, which can assist in saving setup and maintenance time.
Pricing
Starts at $1,585. You can get a free trial of 14 days.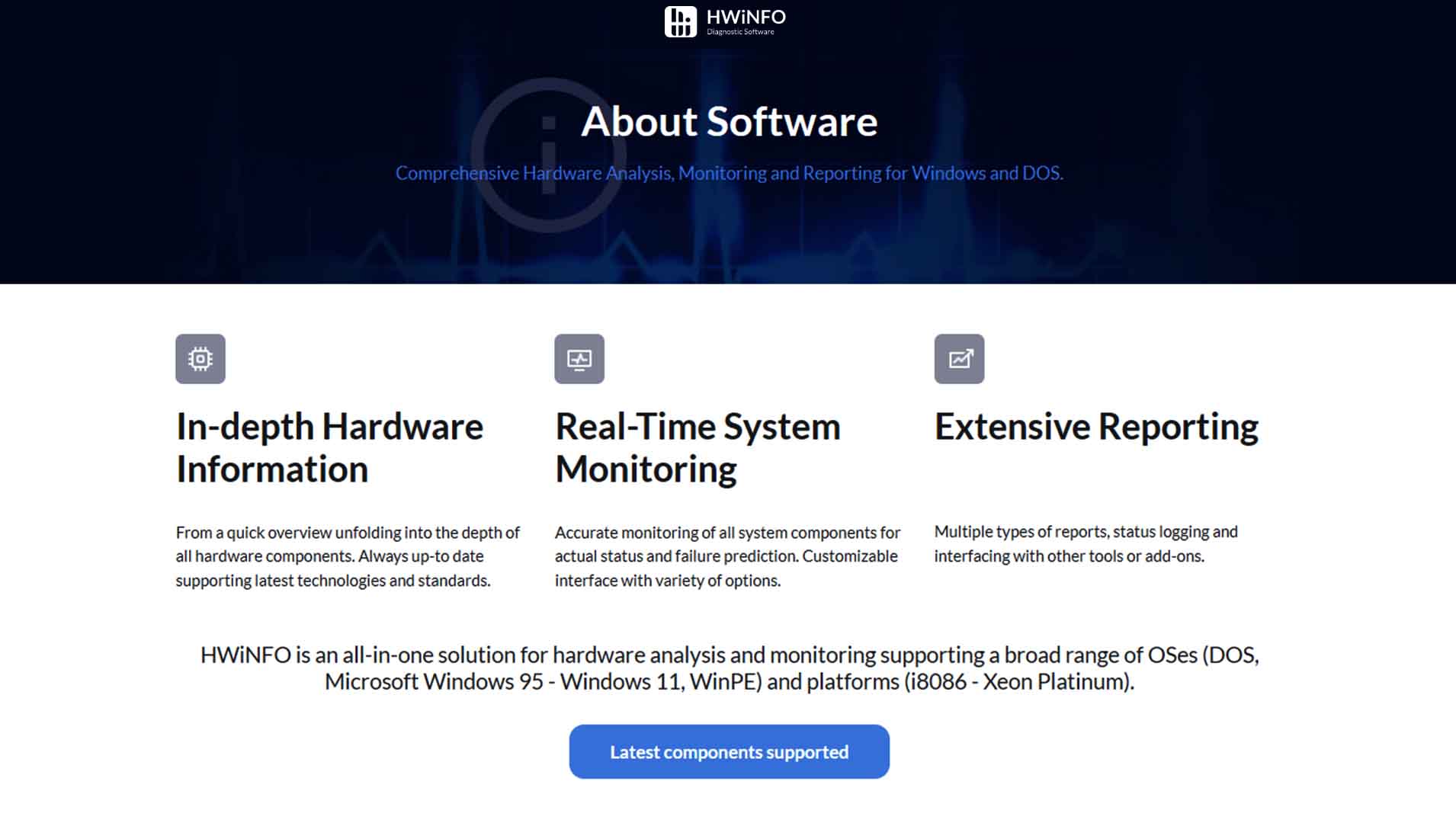 HWMonitor is a CPU monitoring tool that offers a variety of features, including the ability to view detailed information about your CPU, as well as the temperatures of your CPU and other components. It also allows you to create graphs and charts of your CPU usage and temperatures over time. This can be helpful in identifying patterns or trends.
More interestingly, the Pro version enables remote monitoring. It lets you monitor one or more remote PCs and Android devices by establishing a TCP/IP connection.
Pricing
HWMonitor is free to use. However, it also offers a Pro version available in two editions: Standard and Extended.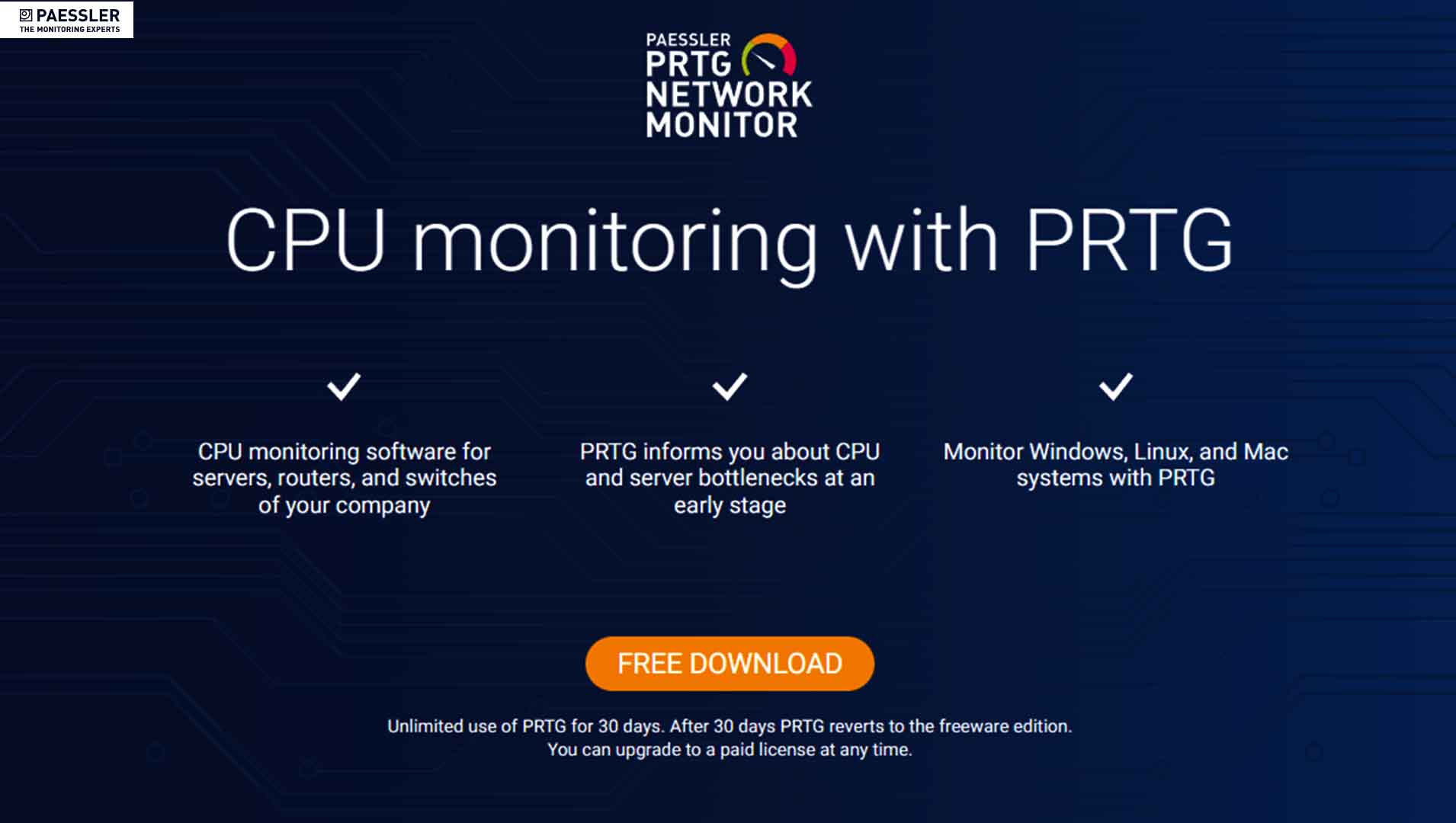 PRTG is a powerful and even easy-to-use technology. While the feature set might sometimes be overwhelming, IT experts will find it hard to run out of options.
PRTG Network Monitor is a real-time comprehensive security testing solution that assists your IT Professionals in detecting and managing problems across the whole network before they can become critical to the business.
This monitoring tool is easy to use even if you have no experience working with this kind of tool. A free alternative is also available for small networks. The automated finding feature, as well as sensor recommendations, work well with little configuration. PRTG's CPU Usage Monitor has over 250 preset sensors.
Pricing (per license)
They offer a 30-day free trial with 100 sensors. The following are different license options available.
PRTG 500: $1799
PRTG 1000: $3399
PRTG 2500: $6899
PRTG 50000: $11,999
PRTG XL1: $15,999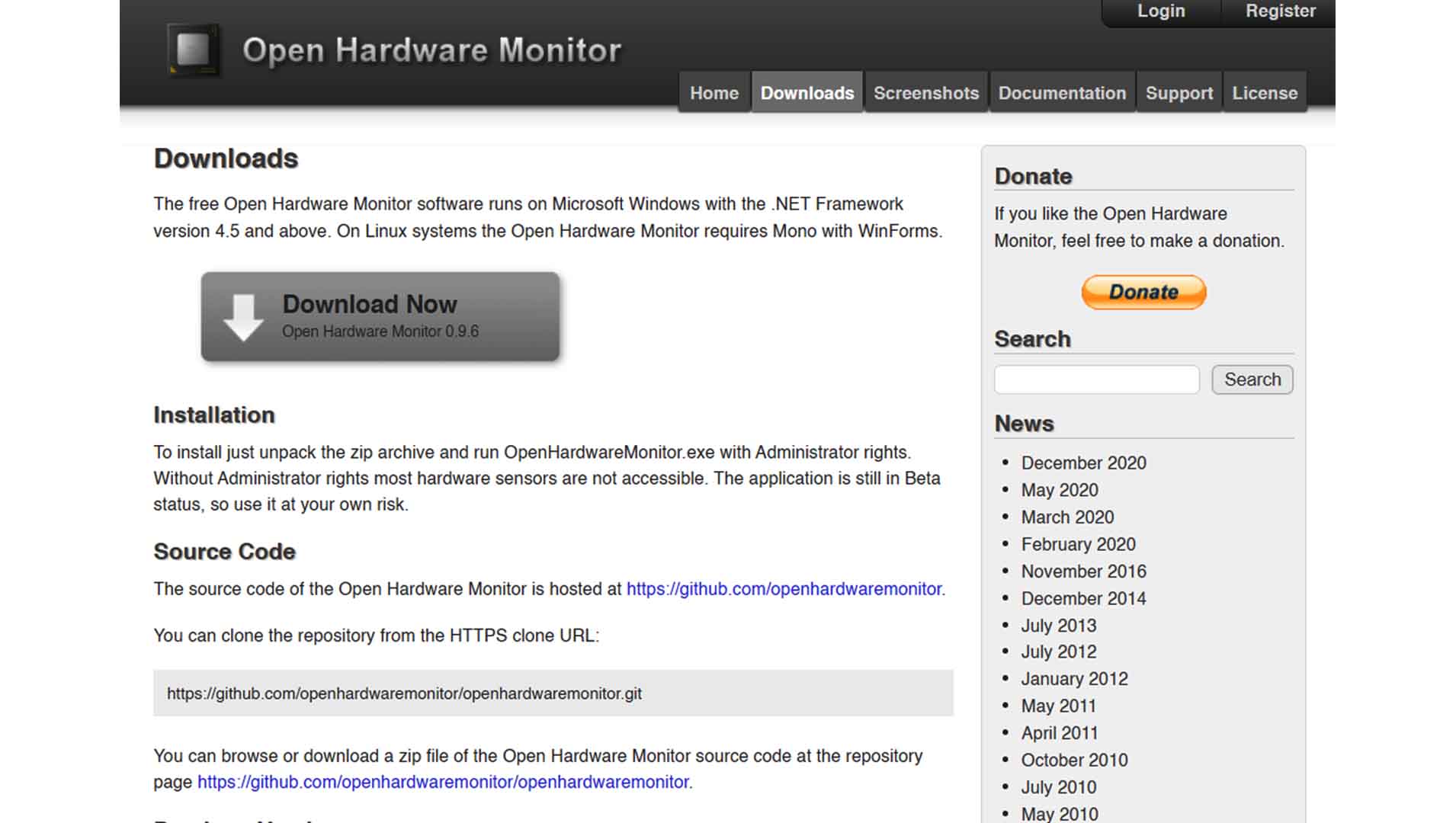 This application is simple to use, allowing you to show any of your system characteristics in your system tray or as a simple on-screen gadget. The Open Hardware Monitor is a free and open-source program that analyzes a computer's voltage, fan speeds, temperature sensors, load, and clocking rates. It is compatible with the majority of hardware monitoring chips present on today's mainboards, including the ITE, Winbond, and Fintek families.
The core temperature sensors of Intel and AMD CPUs can be used to monitor CPU temperature. It also enables you to view the Nvidia and ATI visual card sensors, as well as the temperature of the SMART hard drive. The Open Hardware Monitor works without installation on Microsoft Windows 32-bit and 64-bit operating systems.
Pricing
Free.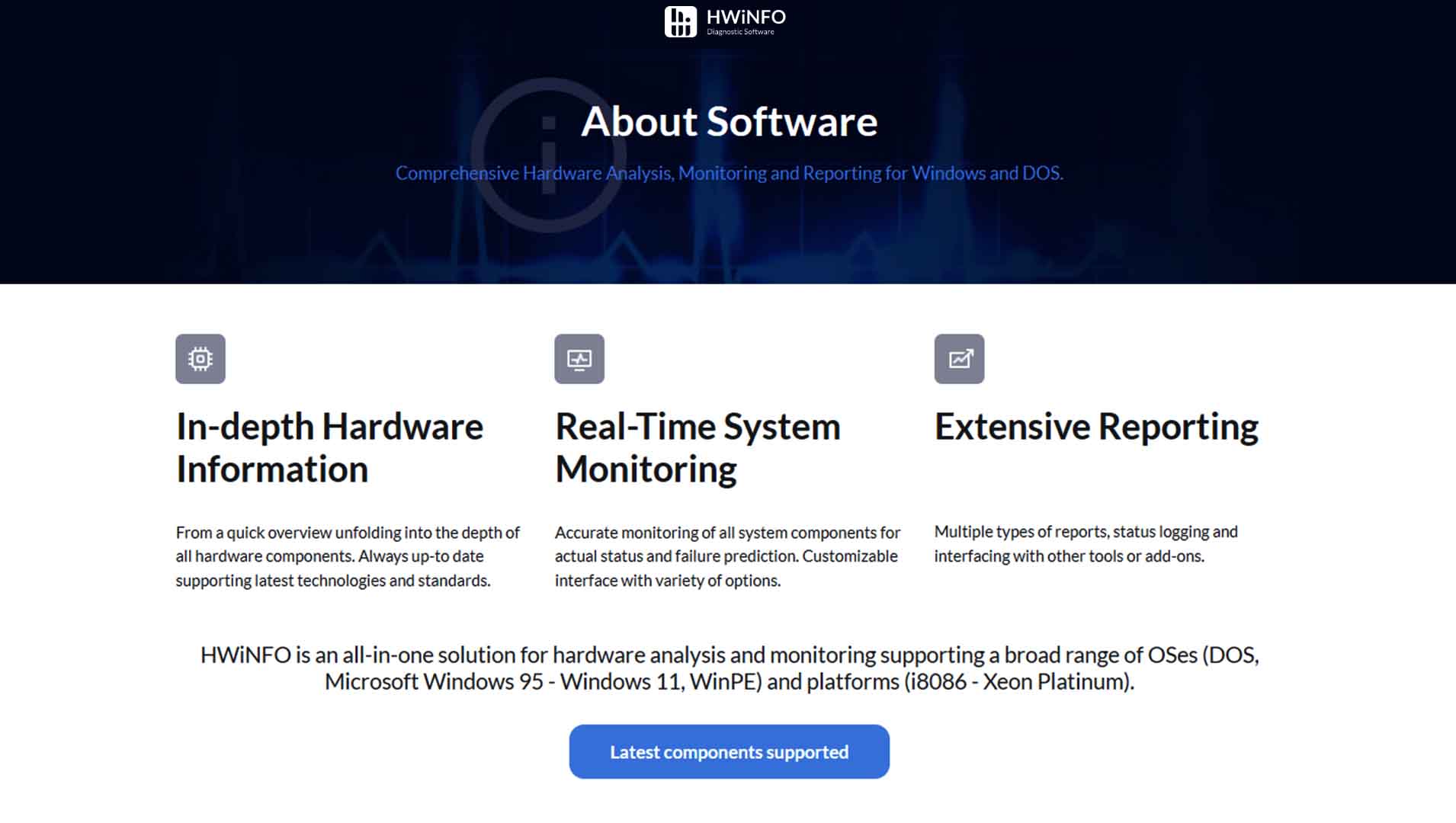 The HWiNFO is a comprehensive and robust CPU monitoring tool that offers features like in-depth hardware monitoring, real-time system analysis, and extensive reporting. From a high-level overview to an in-depth examination of all hardware components, it gives you all. The software is up to date in terms of supporting the most recent protocols and standards.
It accurately monitors all system components for real-time status and failure prediction. You may even customize the interface using a multitude of settings. The tool also offers status logging and integration with other tools or add-ons, like the Rainmeter plug-in and PromDapter.
Pricing
You get three different license options to choose from:
Personal license: $24.99
Engineer license: $199.96
Corporate license: $37.49
Another popular CPU monitoring tool is CoreTemp. This tool is similar to CPU-Z because it allows you to view detailed information about your CPU and other components. However, CoreTemp also has the ability to create graphs and charts of your CPU usage and temperatures over time. It can show the temperature of each specific core of every CPU in your system.
Temperature fluctuations can be detected in real-time with varying loads. Core Temp is also not affected by the motherboards. It is simple to use while still allowing for extensive modification and expansion. In addition, it offers a plug-in platform, allowing developers to add new capabilities and improve its functionality.
Pricing
Free.
CPU-Z is also a good option for those who want to overclock their CPU. Even though the software does not include overclocking functions, it can assist you in creating a report with your device's hardware characteristics, which you can then utilize with an overclocking solution such as HWMonitor.
The software application is vital for any PC user who has to collect their hardware specs to upgrade their equipment, verify system requirements for a game or program, discover the latest drivers, or evaluate their CPU's capabilities. It's small, free, offers a portable version, and has no impact on computer speed.
Pricing
Free.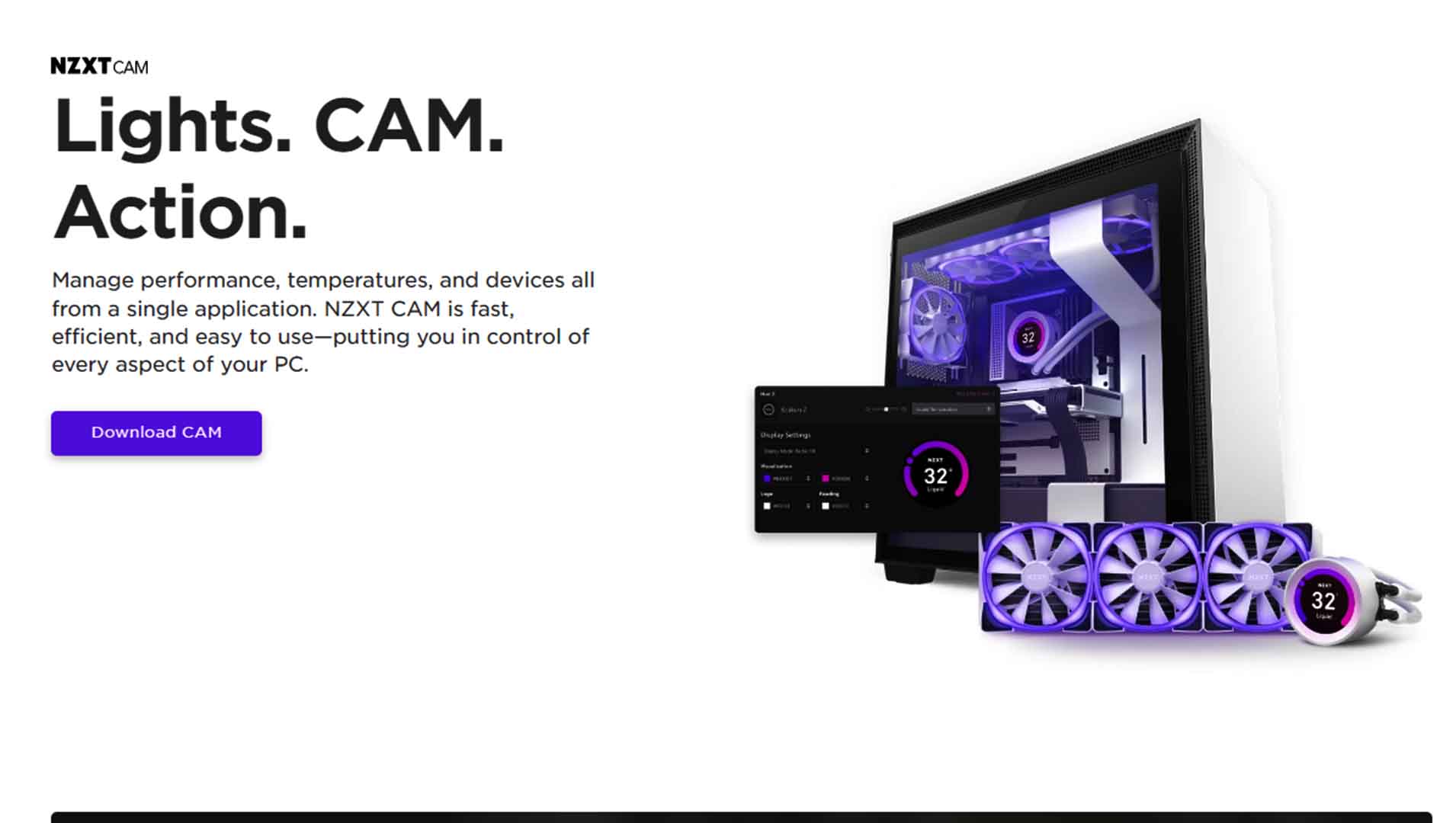 NZXT CAM is quick, efficient, and simple to use, giving you complete control over your computer. It enables you to examine your computer's activity, from processor load to broadband usage. You can constantly monitor how your active applications use your gaming PC and track down any faults as soon as possible to guarantee optimal functioning.
With their steady, low-impact in-game overlay, you can track your FPS, bandwidth, and more. It also allows you to configure your fans and lighting to behave differently at different times of the day. For example, you can configure the lights to turn on gradually as your day begins and your cooling equipment to run at a higher power later on.
Pricing
Free.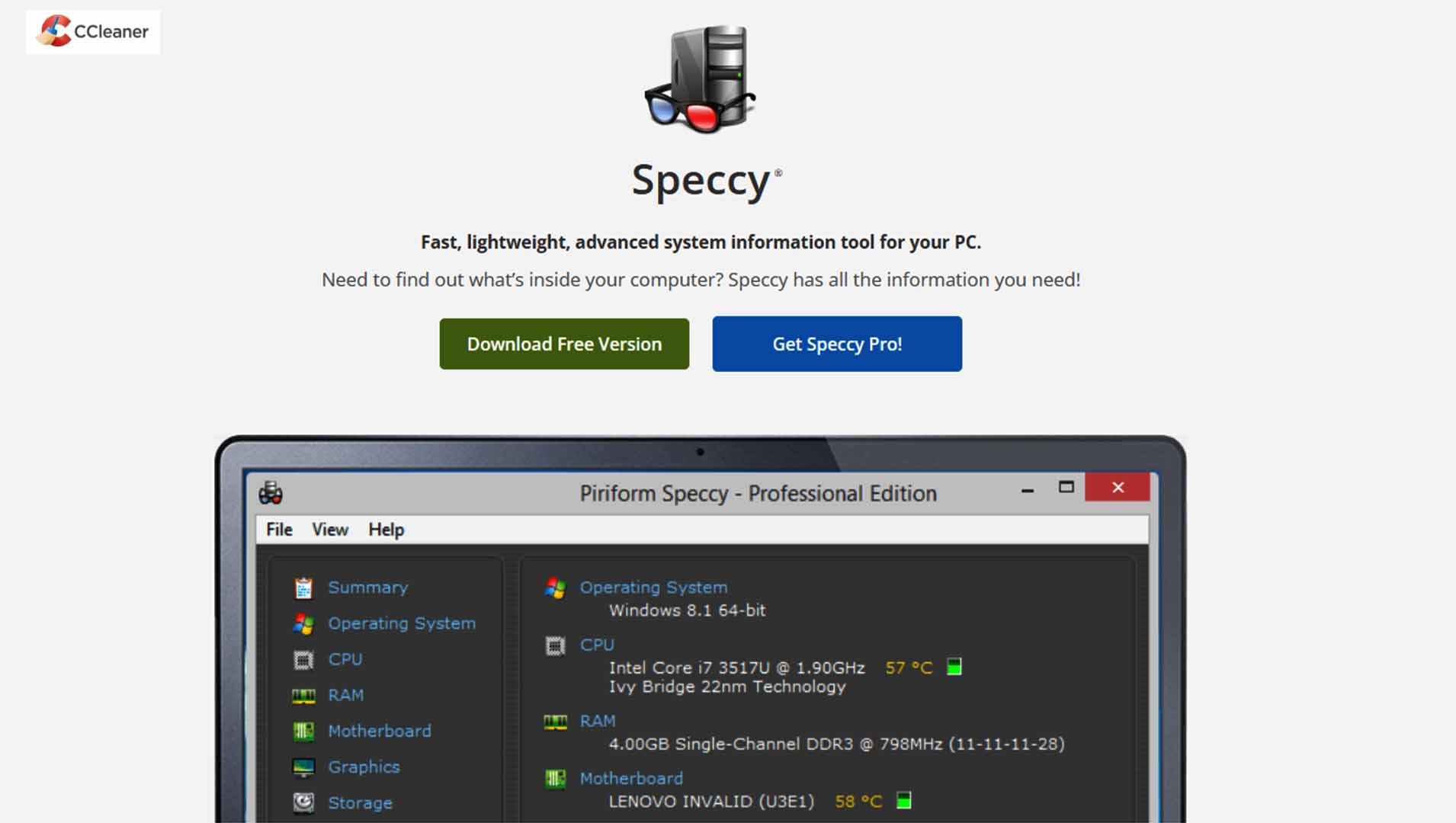 Speccy is a free system information utility from Piriform. It is the best system information utility accessible, with a simple interface, mobile compatibility, and a comprehensive list of software and hardware.
It tracks the number of cores and threads in a CPU, as well as the code, version, present fan speed, packaging, description, code name, stepping number, existing bus speed, revision number, stock bus, and data cache size. In short, it provides a detailed information report for every piece of hardware.
Moreover, Speccy allows you to observe the critical components' real-time temperature. You can scan any component and save the results as a snapshot, text, or XML file.
Pricing
Speccy offers three different editions, as follows:
Free: Free forever
Professional: $8.06
Professional Bundle: $12.47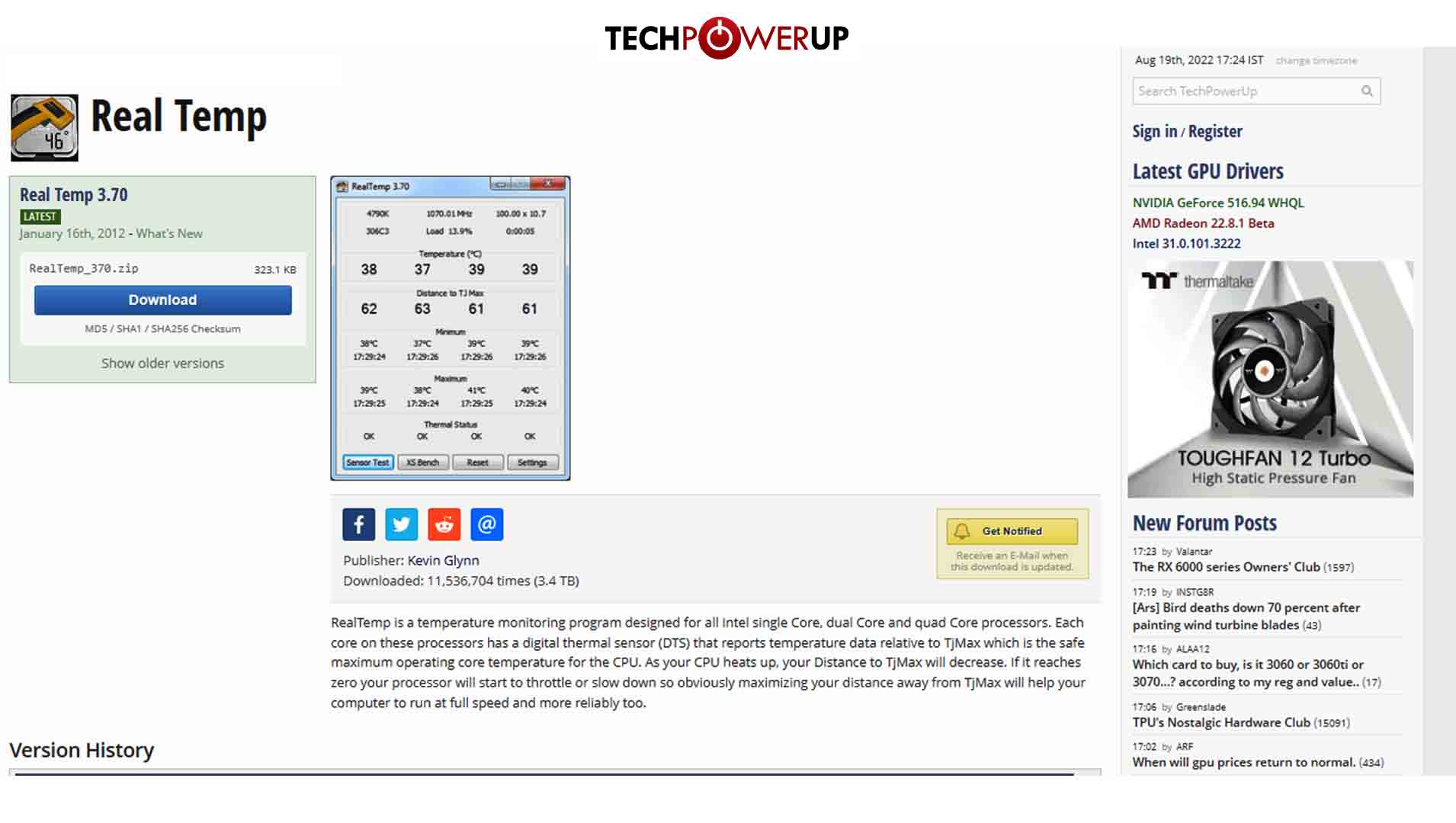 Real Temp is a temperature monitoring tool for all Intel single, dual, quad, and Core i7 processors. Each core contains a digital thermal sensor (DTS) on these CPUs that reports temperature data in relation to TJMax, which is the CPU's safe rated maximum component temperature. As your CPU warms up, so will your proximity to TJMax.
If it hits 0, your CPU will begin to throttle or slow down thermally; thus, keeping your computer as far away from TJMax as possible will allow it to run at maximum speed and more dependably.
Pricing
Free.
Conclusion
Real-time CPU monitoring is essential to keep your computer running smoothly and avoid thermal damage to the motherboard and other devices. It lets you maintain the peak performance of your devices and get continuous uptime.
CPU monitoring using third-party software can help you save time and money. SolarWinds, Paessler CPU Monitoring with PRTG, and HWiNFO are paid tools, while HWMonitor and Speccy offer free and paid tools. Open Hardware Monitor, Core Temp, NZXT CAM Software, CPU Z, NZXT CAM Software, and Real Temp are completely free to use.
So, which of these are you planning to get for your PC? Comment below.
People are also reading: